How to assemble the pefect first aid kit
Whether you are a novice or expert traveller, preparing a travel medical kit (first aid kit) should be an essential part of your trip preparation. Your travel medical kit should be personalized to you and your trip, and include supplies that help you deal with health issues on the go.
---
What is a travel medicine kit?
Travel medical kits are designed to treat travel-related illnesses and injuries, and to ensure pre-existing medical conditions are managed appropriately. For most travellers, this kit provides treatment for common ailments (e.g. travellers' diarrhea, minor cuts and abrasions) and provides peace of mind for the unexpected travel mishap.
---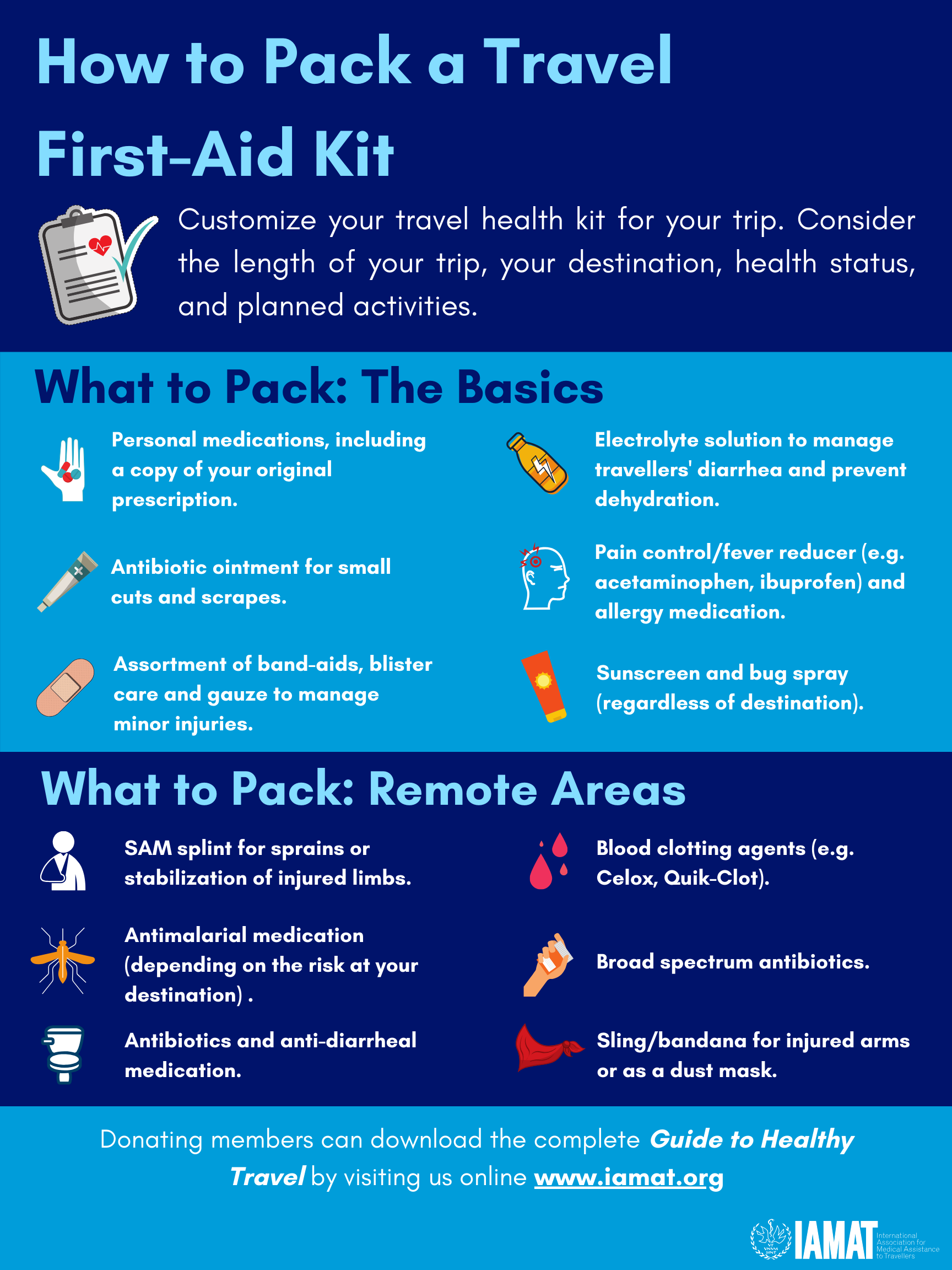 What should I pack in my travel medicine kit?
The size and the contents of your travel medical kit will depend on the length of your stay, travel destination, type of travel (urban vs. remote), planned activities, as well as your age and health status. For example, consider the following:
Your health needs. Your kit should be personalized to you, so make sure it includes every-day items (for example, alcohol-based hand sanitizer, sunscreen, lip balm, birth control) and any needed over-the-counter and prescription medications. If you require prescription medication, make sure you bring a letter from your doctor that details your medication and dosage. This can help you navigate border crossings and consultation with a doctor or pharmacist at your destination. Learn more about travelling with and packing prescription medication.
The length of your trip. Make sure you bring enough supplies (particularly prescription medication) for the full duration of your trip.
The local health risks and needs of your destination. Take some time to learn about the health risks particular to your destination (for example, are there mosquitoes and do they transmit diseases such as Malaria, Dengue, or Zika?). It's also important to consider the availability of healthcare services at your destination (where is the nearest hospital, health clinic, or pharmacy?). If you are going to remote areas, you should adjust the contents of your travel medical kit to make sure you can deal with most emergencies on your own or until you can access medical care.
The activities you have planned. If you are planning a lot of walking or hiking, for example, you will want to bring more supplies to care for your feet.
In general, there are four categories of supplies in a travel medicine kit:
First aid supplies
Personal health items
Over-the-counter medications
Prescription medications
For a full list of supplies for each category and common travel health ailments, download the packing list below.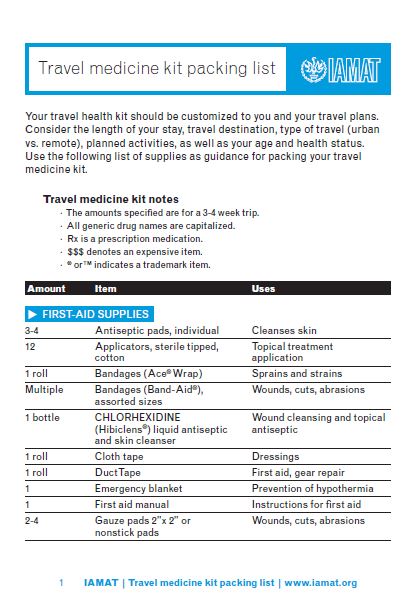 ---
Last reviewed and updated: December 11, 2020.