Travelling abroad?
IAMAT membership gives you access to:
Verified and up-to-date travel health advice.
IAMAT approved doctors and clinics around the world.
When you log in the Medical Directory, you agree to our Terms of Use.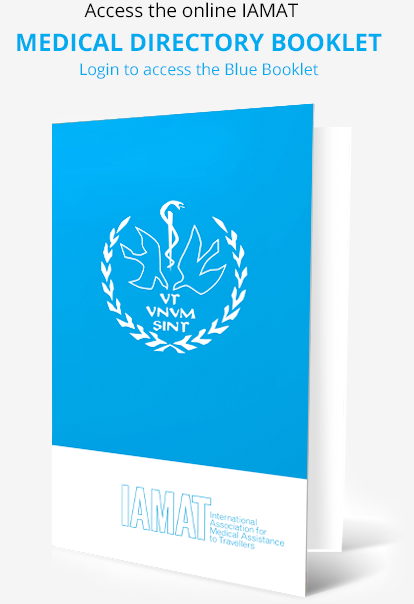 Trusted English-speaking doctors
Being sick away from home can be a daunting experience. Your IAMAT membership gives you the peace of mind to travel confidently.
We put you in touch with qualified English-speaking doctors committed to providing travellers with the highest standards of care. The practitioners in our network are volunteers: They do not pay a fee to be listed in our Medical Directory. This allows us to maintain high ethical standards and ensure that the practitioners in our network have your care as their first priority.
Our members trust the IAMAT Health Network, knowing that they will get professional care in their own language. You can expect similar care to what you get back home.
How it works
Contact the participating IAMAT clinic near you to make an appointment. Phone numbers, emails, websites, and mobile numbers are provided in our Medical Directory.
Present your IAMAT membership card prior to the consultation to alert staff that you're a member.
You pay the affiliated practitioner directly.
Consultation rates
lAMAT members can expect to pay up to the rates listed below for the first consultation provided by private practice doctors. These rates do not apply to hospitals and clinics which will charge IAMAT members their standard consultation fees.
Regular office / clinic calls = US $100
House / hotel calls = US $150
Night calls (from 9:00pm to 9:00am) = US $170
Sundays and local holidays = US $170

These fees do not apply to laboratory procedures such as blood tests, ECGs, X-rays, surgical procedures, hospitalization or any other expenses incurred.
We are not an insurance company
IAMAT is a non-profit organization linking travellers directly to health practitioners who are vetted by us. You pay our affiliated practitioner directly for the consultation. Members who seek medical care from one of our practitioners may choose to file a claim and get reimbursed by their travel insurance provider after their trip.
See why our members use IAMAT doctors
---
Last reviewed and updated: December 19, 2016