Joining forces to fight fake medicines
IAMAT is an official partner of Fight the Fakes, a campaign that aims to raise awareness about the dangers of fake medicines.
Fake medicines put travellers and the public at risk. Travellers believe they are receiving genuine medication, but instead they may be exposed to potentially dangerous products that could increase resistance to real treatments and cause further illness, disability, or even death.
IAMAT President M. Assunta Uffer-Marcolongo explains how the partnership benefits travellers and the communities they visit:
Joining the fight against fake medicines is important to us as advocates for travellers' health. Travellers are increasingly opting to buy vaccines, malaria pills, and prescription medications online and abroad to minimize costs while travelling. Travellers need access to reputable doctors and pharmacists as well as information on the risks of falsified and substandard medicines. As a Fight the Fakes partner, we want to bring attention to this pressing issue in order to prevent further drug resistance, medical complications, and deaths arising from the sale of fake drugs.
About Fight the Fakes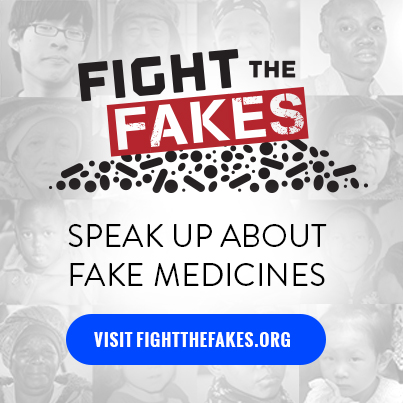 The Fight the Fakes campaign gives a voice to those who have been personally impacted and shares the stories of those working to put a stop to this threat to public health. It seeks to build a global movement of organizations and individuals who will shine light on the negative impact that fake medicines have on people around the globe and to reduce the negative consequences on individuals worldwide.
Fight the Fakes partners endorse the campaign and share the belief that coordination among all actors involved in the manufacturing and distribution of medicines is vital to tackle this public health threat.
To learn more about the campaign and what you can do to fight counterfeit medicines, visit fightthefakes.org.
---
Last reviewed and updated: September 6, 2019